2020-05-12 智邦网
编译 致远
据C4ISR网2020年5月7日报道  DARPA战术技术办公室主任迈克·莱希5月6日在年度C4ISR会议上表示,正在推进的项目可望将美海军无人水面舰艇技术发展向前推进十年。名为"NOMARS的无人水面艇与海军开发的一系列大中型无人水面艇不同,是一种从操作到作战均完全无人参与的水面舰艇。迈克·莱希表示,海军与DARPA在开发无人平台方面保持密切联系,但NOMARS仍将是DARPA的独立研究项目。海军虽然参与了海军试验,以确保信息交流和共享,但海军会保留风险承担权。保持独立发展路线很重要,DARPA可以容许失败。如果计划成功,海军无人水面艇将是一次巨大飞跃。
Here's the DARPA project it says could pull the Navy a decade forward in unmanned technology
WASHINGTON – A project inside the Defense Advanced Research Projects Agency has the potential to pull the Navy's unmanned surface vessel aspirations forward a decade, a senior DARPA official said Wednesday at the annual C4ISR Conference.
DARPA's effort to develop a ship designed from the keel up to operate without humans, known as "NOMARS" for "no mariners," is a separate effort from the Navy's quest to develop a family of large and medium unmanned surface vessels. But the benefits of that program, if successful, could be a giant leap forward for the concept the Navy is developing, said Mike Leahy, who heads the Tactical Technology Office at DARPA.
The Navy "will only be able to go so far with where the technology has matured," Leahy said.
"What we're able to do is link to that group [developing USVs for the Navy], get information about what missions they are trying to accomplish, the sizing and other constraints, feed that into NOMARS project so that we can take the same class of ship – looking at the same ideas in terms of a hull form – and when we are successful we can dump that right into their tranche and pull that forward a decade from where it might have been on a traditional path."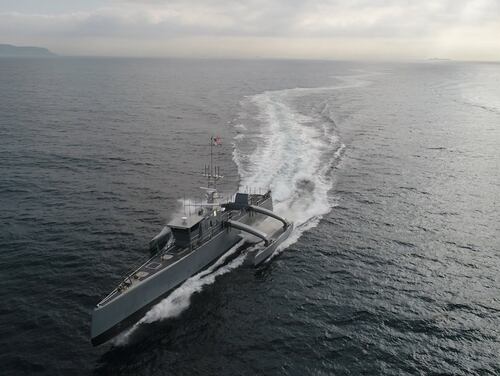 The Navy is planning to take the first few steps into a radical future, which, if it comes to pass, will upend how the fleet has fought since the Cold War.
The Navy and DARPA have been closely linked in efforts to develop unmanned platforms but DARPA's NOMARs will remain an independent effort, Leahy said.
The Navy has "been involved in the source selection, they're involved in the testing we're doing, so that we can make sure that information is flowing," Leahy said. "But we will reserve the right to take risks that may not be in the direction they want to go. Because sometimes learning what does not work is even more valuable than what does.
"The physics is going to tell you what you need to know, and you can't cheat it."
Maintaining separate lines of effort is important because DARPA has the freedom to fail whereas failure in an acquisition program has higher stakes, he said.
"NOMARS is going and looking at 'Can I take people completely off ships,'" he explained. "That's a risky endeavor. We don't know if we're going to be able to do that. We don't know if that's going to pan out. You would not want to link an acquisition program directly to that."
Another Option
The Navy is currently pursuing both a large and medium unmanned surface vessel that can perform missions for the surface Navy as a means of increasing aggregate naval power without wrapping a $2 billion hull around 96 missile tubes, as Chief of Naval Operations Adm. Michael Gilday has said publicly, referencing the Arleigh Burke-class destroyer.
A recent study by the Center for Strategic and Budgetary Assessments said the Navy was barking up the wrong tree in its pursuit of an optionally manned large unmanned surface vessel, saying it should instead pursue an "optionally unmanned" corvette that could perform the normal range of peacetime surface Navy missions and perhaps be used as an unmanned external missile magazine in the event of conflict.
The drive toward integrating unmanned surface vehicles in the force, which Navy officials suggested could make up a significant portion of the future fleet's force structure, was kicked off in earnest with the rollout of the 2020 budget.
Senior Navy officials have talked about the LUSV as a kind of external missile magazine that can autonomously navigate to and integrate with the force, then shoot its missiles and return for reload, keeping the big manned surface combatants in the fight and fielded longer.
---
相关新闻
亚马逊对美国防部"联合体系国防基础设施"修正案提出质疑(英文)
DARPA推进"战区统领"计划,开发近地轨道航天自主任务管理系统(英文)